Cargo Insurance
Most of business owners want to have their shipments covered.
According to CHUBB (www.chubb.com)
With thousands of competitors around the world, it is a real challenge to stand out from the competition.
Let's start by clearing up a common misconception, according to CHUBB – the difference between Freight Liability and Cargo Insurance:
If there is no cargo insurance in place, the shipment of your customer is subject to your standard trading conditions, where limitations of liability and exclusions apply.  In the case of a loss to the goods under your responsibility, the compensation will be determined by the trading conditions. Hence, your customer may not receive full settlement, due to limitations (e.g. per kilogram or package) or even worse, the claim might be rejected due to exclusions (e.g. act of God or war). In addition, your customer needs to provide evidence that you are legally liable for the loss that occurred.
With cargo insurance in place, your customer will be compensated according to the policy of insurance. In case of physical loss or damage to the goods while in transit, your customer will be reimbursed up to the full value of the goods. Also, your customer does not have to prove that you are legally liable for the loss.
The benefits of Cargo Insurance
As explained above, offering cargo insurance is a real benefit for your customers as their cargo is fully protected from loss or damage during the freight movement process if an unexpected event happens.
Cargo insurance is vital for the following reasons:
It is a difficult process to make claims against any air, road, rail or sea carriers
There is a major hidden cost associated with the handling of cargo claims
It removes conflicts with shippers when cargo is lost or damaged
It removes uncertainties for shippers
It creates goodwill with shippers
About Chubb : Chubb has both general insurance and life insurance operations in Vietnam. Its general insurance operation in Vietnam (Chubb Insurance Vietnam Company Limited) offers specialized and customized coverages for Property, Casualty, Marine, Financial Lines, Energy & Utilities, as well as Accident & Health. Chubb has more than 200 offices and agent worldwide to serve Marine Cargo Insurance business, and also developed their product of Marine Cargo Insurance in Vietnam as from Sep 2017, till now they have increased their market shares remarkably.
Chubb Insurance Vietnam Company Limited
Saigon Finance Center
9 Dinh Tien Hoang St., 8/F, DaKao Ward, Dist. 1, HCM City, Vietnam
Phone +84 28 3910 7227 | www.chubb.com/vn
MAXCO has been officially authorized as Agent of CHUBB Vietnam as from Nov 25th, 2017 to issue Policy of Insurance for each of shipment exported from & imported to Vietnam.
We are offering Cargo Insurance Clause A service both Single Shipments and Annual Policies.
Use our simple formular to know your shipment Premium fee :
Premium fee = Declared Cargo Value x Premium Rate x 110%
Our well-trained team has explorered and served more than 8,000 teus (date of record 2021) of different types of export and import cargoes including Agricultural products, Industrials products, Rubber, Cements, OOG & project shipments, etc till now. We are proud to serve VIP client such as HENEIKEN Vietnam. We commit to offer Reliable, Simple But Fast services to every single shipment under Single or Annual Policy:
Insurance Policy is issued over Chubb's Cargo Advantage® online system within 15 minutes.
The Insurance Policy has validated world-wide.
No amendment fee after Original ones issued.
Issued Insurance Policy is Encrypted over file PDF which cannot be Edited.
Client can buy Single Policy or Annual Policy to make sure all shipments get insured completely.
Upon issues of damage or lost, Chubb's team worldwide can quick handle with fast compensation within 15 days.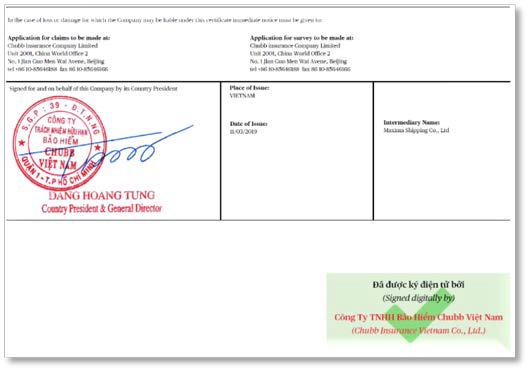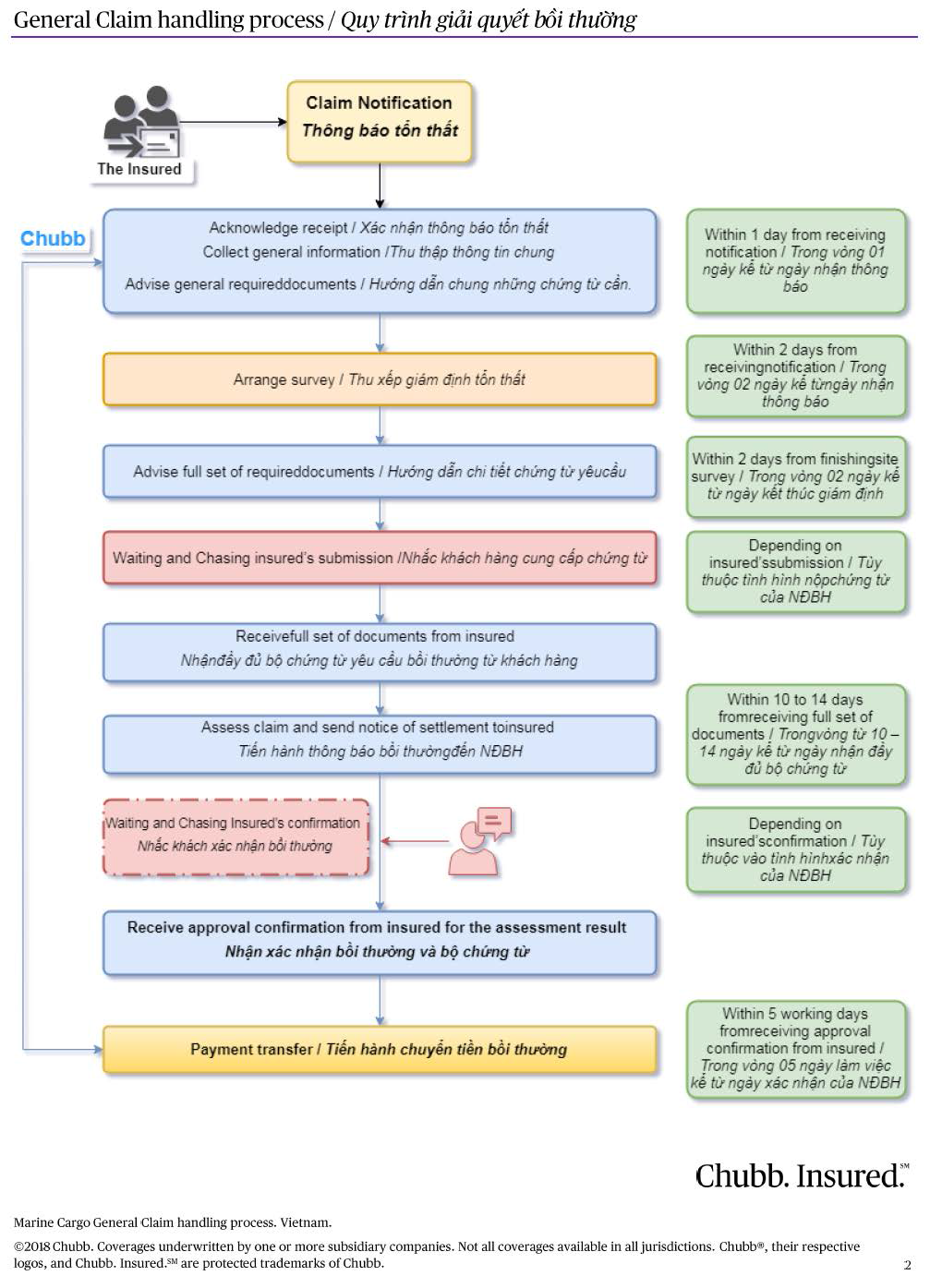 In order to have further understand about our Cargo Insurance services of CHUBB, kindly discuss with our experts:
Contact us :
Tel : (8428) 62616623 | 62616624 | 62616654
Email : Ms. Lucy | Operation Manager | OpsMgr@MAXCO.com.vn
Ms. Nancy | Operation Supevisor | Ops7@MAXCO.com.vn